2017 SHOW IS RUNNING
You are inivited to visit our home at 1716 Bell Ave in Chambersburg to see over 15,000 lights synchronized to music!
HOW WE DO IT
All of our lights are controlled by a dedicated computer that allows us to turn them on or off in perfect time with the music. We're transmitting our holiday music on 106.5 FM.
You can probably tell that we're not just using a store-bought system to simply flash the lights. We program each song manually and use some very remarkable power controllers to give us full control of this unique display.
We have over 15,000 lights controlled by 64 computer channels. It takes over a half a mile of extension cords to run everything!
Naturally, it takes a lot of time to hang all of those lights and set up the extension cords. Most people don't realize just how much time is spent programming. It takes 1-2 hours per minute of song to program the lights.
VISIT US
Our show starts every night at 5:30PM. Most days it will end at 9:30PM, but on Fridays and Saturdays it runs until 10:30PM. When you arrive, tune to 106.5FM to enjoy the show.
For your safety, shows may not run during bad weather.
Please do not block our neighbors' driveways or use them to turn around. However, feel free to use our driveway. Also, keep in mind that Bell Avenue is just a small circle. Instead of turning around, go straight by our house and around the block to see some other lights!
Be respectful of our very kind neighbors and try not to make too much noise. This is a very quiet neighborhood and we need to keep it that way!
Please don't roll down your windows with the music playing.
We suggest keeping your parking lights on for safety, but it might be nice to turn off your headlights for the benefit of other viewers.
We're located near the corner of Sollenberger Road and Bell Avenue in Chambersburg, PA.
If you go west out of Chambersburg on Route 30, look for a Sheetz on your left just before Route 30 traffic becomes two-way. Turn right on Sollenberger Road at the red light. Go exactly two miles (stay left to avoid Johnson Rd) and then turn right onto Bell Avenue just before the entrance to Majestic Ridge.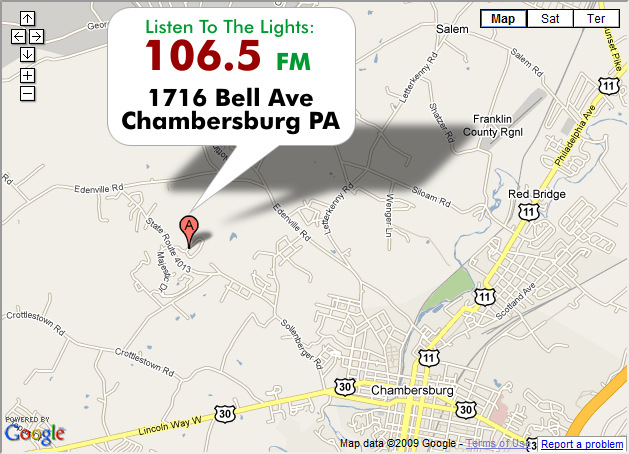 WHY WE DO IT
Mike owns a computer consulting company and Heather is the music teacher at Corpus Christi. We both come from families who were known for hanging a lot of holiday lights. I guess this is what happens when you combine computers, lights, and music!
We hope that our display will bring some joy and entertainment to members of our community. We want to wish everyone a Merry Christmas, Happy Hanukkah, Happy Kwanzaa, Happy Winter Solstice, or even a Happy Festivus... and at least a Happy New Year! No matter what you celebrate during this wondeful time of year, have a safe and joyous holiday season.
VIDEOS
Videos of previous years are available on YouTube. Below you'll find videos of our 2009 display. The videos really don't do it justice. You need to stop by and see it with your own eyes!
Introduction:


Nutrocker:


Blue Christmas:

CONTACT US
Questions or comments? Email michael@cermak.com.